West Bergen Mental Health Facility Tour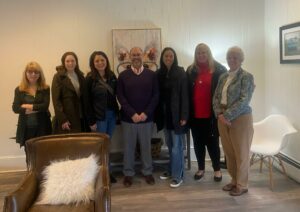 The JLBC was invited to get a sneak peak at the newly renovated West Bergen Mental Health Center for Children & Youth in Ramsey, NJ.
In 2021, the JLBC renovated the Family Room at the Center and little did we know at the time that our project would jump start a facility wide renovation.
We want to thank Chief Operating Officer Barbara Hand, CEO Michael Tozzoli, and West Bergen Mental Health Board President Christine Kearney for the tour. It is always special to see how our work impacts the community. We look forward to working with WBMH in the future with more projects.