Prospective Member Coffee & Connect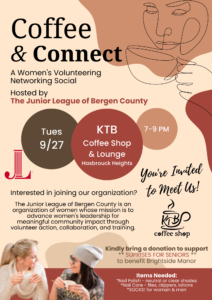 Are you interested in joining our League but want to get to know us a little better before making the jump? We totally get it and would love to "Connect" over Coffee (or your beverage of choice) on Tuesday, September 27th, 2022. Members of the League will be there to tell you a little about Junior League, how we make an impact on the community and why they joined the League all while trying to get to know you.
We do kindly ask that you bring a donation to support Surprises for Seniors, a program run through Brightside Manor. They are looking for small items such as Nail Polishes (neutral or clear shades), Nail Care items (files, clippers, lotions etc.) and most importantly, Men and/or Women's Socks.
Please Contact Debbie Norman, if you are interested in joining us on Tuesday. We look forward to seeing you there!