Nominating and Placement Chair Bio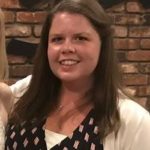 Theresa Lanz joined the Junior League of Bergen county in 2015. Since joining she has served on or chaired Done in a Day, Public Relations, and Nominating and Placement. In addition to her desire to give back to her community, she is thankful for all the great women she has met within the League and for the training she has received in the past 5 years.
Prior to joining the leave she graduated from Syracuse University with a Bachelors of Science in Civil Engineering and later earned a Master of Business Administration from Seton Hall University. She started her career in Bridge Design but currently works in Construction Management, overseeing transportation/railway projections throughout NYC. Theresa is a registered Professional Engineer.
Theresa grew up in Orange County, NY and currently lives in Waldwick, NJ with her husband and two kids. In her spare time she loves to travel and find new adventures.