Meet the 23-24 Executive Board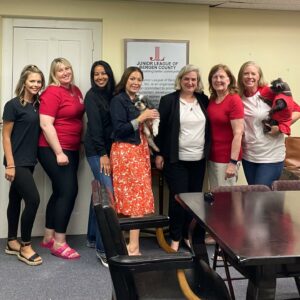 The JLBC is very proud to introduce you to our 23-24 Executive Board.
Please Meet (pictured left to right):
Nicole DeMatteo – PR/Communications
Rachel Oster – President
Nicole Rutigliano – Nominating & Placement
Vanessa Marquez – Community
Gretchen Connard – Treasurer/Spring Fundraiser
Linda Lyons – Sustainer Chair
Debbie Norman – AVP
Not Pictured:
Candi Feola – New Member
The Board held their first monthly meeting for the year at the JLBC office in Ridgewood on June 6th, 2023. It was an extremely productive meeting filled with goal setting, committee transfer reviews, calendar planning and much more.