JLBC Community Meet & Greet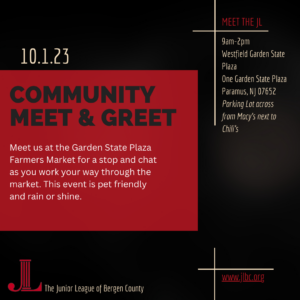 Meet the Junior League of Bergen County at the Garden State Plaza Farmers Market for a stop and chat as you work your way through the market. It is an excellent opportunity to meet some of our member and learn more about the Junior League of Bergen County.  This event is pet friendly and rain or shine.
Joining the JLBC is not a requirement, however, this will be a great, informal way to meet some members of our group, ask questions and just get to know us a little better and explore what we do.
If you are interested in joining us, please reach out to Membership@thejlbc.org for more information