August Hiking and Happiness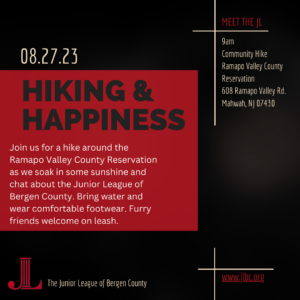 The JLBC's Membership Committee is excited to host their first event of their 2023-2024 Membership Event Series next Sunday, August 27 on a light walk/hike through Ramapo Reservation. The JLBC is excited to expand our membership to as many local women because our service goals are ever growing.
Joining the JLBC is not a requirement, however, this will be a great, informal way to meet some members of our group, ask questions and just get to know us a little better and explore what we do.
If you are interested in joining us, please reach out to Membership@thejlbc.org for more information of meeting location at the Reservation. We plan to be out and about for about 2-hours and hopefully get as many of us to brunch after!