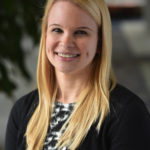 Alyse Mihalik graduated from Rutgers University in 2008 with a Bachelor's Degree in political Science. In 2010 Alyse earned a Master's Degree in history from William Paterson University. She recently completed a Master's degree in Administrative Science from Fairleigh Dickinson University.
Alyse started working at PSE&G in 2012 in an analytical role with the Revenue Controls department where she was responsible for financial regulations and managed a capital investment project. She now works in State Government Affairs where she supports advocacy efforts for regulatory filings, drafts testimony for public hearings and leads internal process improvement efforts. Alyse holds a 6 Sigma Black Belt certification.
Alyse joined the JLBC in 2018 and has served as Chair of the Done in a Day committee. In addition to currently sitting on the Board of the JLBC as Administrative Vice President for the second year, Alyse serves as Chairwoman of the Meadowlands Chamber of Commerce Emerging Leaders committee where she strives to strengthen the business and leadership skills of members. In 2019 she was the recipient of the Arlene Simpson Leadership Award which honors members who are especially active and integral in advancing the Chamber's mission. She is a 2020 graduate of Bergen LEADS.