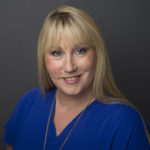 Rachel Oster utilized the skills she acquired in the Junior League of Bergen County to switch from an 18-year career in the fashion industry to non-profit development as the Director of Bike MS at the National MS Society. She is a forward-thinking, highly analytical, creative, and technically savvy leader with a notable track record of success in turning around fundraising performance to achieve goals. Rachel demonstrates a passion for making an impact in her community and in galvanizing team efforts around a vision for growth; effective in leading transformation and change needed to be successful and sustainable in today's evolving non-profit landscape.
Rachel joined the Junior League of Bergen County in 2014 and during her tenure held the following roles:
2022-2024: President
2021-2022:  President Elect
2020-2021: VP of Community/Community Chair
2019-2020: 5 Year Privilege
2018-2019: VP of Fund Development and Chair of the 32nd Annual Festival of Trees
2017-2018: VP of Fund Development
2016-2017: Chair of the 30th Annual Festival of Trees
2015-2016: Assistant Chair of the 29th Annual Festival of Trees
2014-2015: Touch a Truck Committee Member-Food
2013-2014: Touch a Truck Committee Member-Activities
Rachel possesses a bachelor's in science in Fashion Design from Syracuse University.  Originally from Troy, NY Rachel relocated to New Jersey in 2002 and currently resides in Fair Lawn, NJ where she has a passion for gardening and cooking and summers in Long Beach Island.