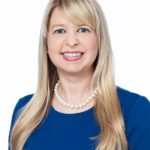 The JLBC is Casey Christopher's third League (Cleveland and Tampa) and this is her 15th League year!  She has served in numerous financial positions, public affairs and most recently in membership at JLBC.
Casey is passionate about collaborating with organizations that make our communities a better place to live and the banking industry a career destination for women and young people. She especially likes creating new and impactful pathways to change.  Process improvement and creating efficient procedures are her guilty pleasures.
Prior to joining Quontic Bank to head their Specialty Banking team, Casey helped build CenterState Bank's (Florida) correspondent division for 10 years before joining the Independent Community Bankers of America where she connected northeastern community banks to Washington DC's most powerful voice for community banking.
She attended the Florida School of Banking, earning The Dr. C. Arnold Matthews Honor Graduate Award upon graduation and is a co-founder of Florida Bankers Association's Annual Florida Women in Banking Conference. Proud to be a lifelong learner, Casey is a graduate of The Graduate School of Banking at Louisiana State University.
Casey is a member of Chief, a private network for executive women in NYC and Financial Women's Association of New York.  Most recently, she has begun serving on the board of the New York League of Independent Bankers believing that strength in numbers can foster change.  In 2009, she began her term on the Ohio University Alumni Association Board of Directors, now serving on the Board of Trustees and Chairwoman of the National Alumni Board.
Casey was raised in New Jersey and Ohio (resulting in a very awkward accent) and is a 2002 graduate of Ohio University. She resides in Westwood, New Jersey.