35th Annual Festival of Trees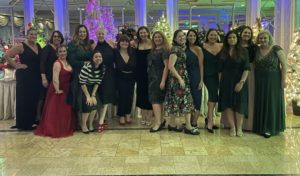 The Junior League of Bergen County (JLBC) hosted our 35th Annual Festival of Trees Gala on Thursday, November 10th, 2022 at Seasons Catering in the Township of Washington, NJ.  Festival of Trees, a cocktail gala, is our signature fundraiser and features a live and online auction of trees, holiday decor and gifts. 
At this year's Festival of Trees, we proudly honored our community partner Center for Hope and Safety, an organization focused on rebuilding lives for those impacted by domestic violence. The JLBC has annually provided support to this amazing organization through facility remodels, garden cleanups, and annual gifts.  In the Fall of 2022, the JLBC initiated a year round care program of their Pathway to Self-Sufficiency a small garden in Van Saun Park as space that memorializes victims of domestic violence
The funds we raised at the 35th Annual Festival of Trees will help provide the means to start our next Project Playground site to be announced in Spring 2023 as well as our work at the Pathway for Self-Sufficiency and other small scale community projects.
It is never too early to show support for this annual fundraiser. You can easily:
Make a donation to the JLBC commenting that the donation is for Festival of Trees
Donating an item or service to our auction; Contact Festival@thejlbc.org     
We look forward to your partnership and thank you for your help advancing the JLBC's mission.
Warmest regards,
The Festival of Trees Committee