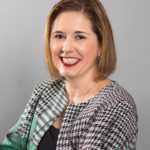 Britt Erica Tunick is the 2020/2021 president of the Junior League of Bergen County. She first joined the Junior League in 2004, initially as a member of the New York Junior League, where she spent several years volunteering on committees that worked with Covenant House and a medium-security prison in NYC. Since transferring to the Junior League of Bergen County, she has been a member of multiple committees and has served as the chair of Touch a Truck two different times, as treasurer and administrative vice president.
In her professional life, Britt is an award-winning journalist who has spent more than two decades writing about the financial services industry. She is a former senior writer for AR Magazine (Absolute Return & Alpha), where she wrote cover stories and in-depth profiles on many of the hedge fund industry's biggest and most influential firms, as well as comprehensive features on a range of topics in the alternative investment industry. Prior to AR, she was an editor at Alpha Magazine, an in-house editor for KPMG's M&A practice, and a senior editor at Investment Dealers' Digest Magazine. She also spent two years in London, where she reported on European and U.K. startups for EO News and wrote stories for Euromoney Magazine, the Sunday Business and the Financial Times. She began her journalism career as the features editor at a small community newspaper in Glendale, CA.
Britt also has significant event planning experience -from programming multiple panels and lining up high profile speakers for hedge fund symposiums, to organizing and running monthly networking events and an annual black-tie gala, managing the database and website for a membership organization and coordinating and running a major fundraiser attended by more than 1,300 people for a non-profit organization. She is the executive manager for the New York Financial Writers' Association and the director of operations for the New York Alternative Investment Roundtable.
She holds a bachelor's degree in English/Journalism from Pepperdine University and a master's degree in Public Affairs Reporting from the American University School of Communication in Washington D.C. She was the 2006/2007 president of the New York Financial Writers' Association and a member of the organization's board of governors from 2002 to 2012. She is also a member of 100 Women in HedgeFunds, the Society of American Business Editors & Writers, serves as a deacon for the First Presbyterian Church of Ridgewood and is a member of the board of the Orchard Elementary School Home School Association. Britt is the July 2010 recipient of the American Society of Business Publication Editors' Northeast Region Silver Azbee award and received 1st and 3rd place editorial awards from Euromoney/Institutional Investor in 2009. In 2008 she was awarded the New York Financial Writers' Association's Emil Meier Award.