The Little Black Leggings Initiative 2021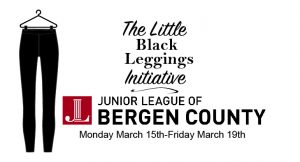 What is the Little Black Leggings Initiative?

The Junior League of Bergen County is thrilled to announce the return of our Little Black Dress Initiative, but with a twist!  This year, since most of us are working from home and aren't wearing dresses these days, we invite you to wear black leggings instead for the duration of our campaign. The look may be different, but our goal remains the same –to raise awareness for poverty and raises critical funds for some of our most vulnerable community members. Our Little Black Leggings campaign will run from Monday, March 15, through Friday, March 19.
What is the Little Black Leggings Initiative?
The Little Black Leggings Initiative is a low-cost, poverty-awareness fundraising campaign created by the Junior League of London in 2013
Participants wear one pair of black leggings for five days straight to illustrate the effects poverty can have on a woman's access to resources, confidence, and opportunities
The purpose of the initiative is to raise awareness, both within the League and the community at large about poverty and the work the JLBC does to help eliminate poverty and its effects.
Multiple Junior Leagues, both nationally and internationally, have rolled out this program to address specific community needs and raise funds.
Since 2019 the JLBC has raised over $4,500 through this initiative and has distributed it to our local community partners.
Impact
The JLBC's fundraising goal for this year's Little Legging Dress Initiative is $10,000, which we are hoping to exceed. All funds raised through LBLI will allow the JLBC to directly improve our community and will be divided amongst three identified needs in our community to be distributed through three of our community partners.
$25 will provide three months of Menstruation Products
$35 will provide new undergarments, socks, and full-sized toiletries for Abused Women/Children for Emergency Housing

Partner: Center for Hope and Safety
$50 will help fund our upcoming Project Playground, which will create a green space for low-income children at Camp YDP who currently lack a safe outdoor space to play in
Please join us! Your contributions will help us strengthen our community by helping others in need.
Sign up here: https://connect.clickandpledge.com/Organization/thejlbc/campaign/LBLI2021