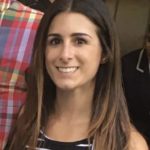 Lauren Damstrom graduated from The College of New Jersey in 2011 with a Bachelor's degree in Secondary Math Education.  In 2015, she earned her Master's Degree from The College of New Jersey in Educational Leadership.
Lauren started working as a math teacher in a local high school in 2011 and has been working there ever since.  She currently lives in Bergen County with her husband, daughter, and pug, and enjoy being outdoors whenever possible.
Lauren joined The Junior League in 2017 and has since served on or chaired Festival of Trees, New Member, and PR/Marketing. She enjoys giving back to her community and is thrilled to be serving as a member on the board.