Junior League Zumba Class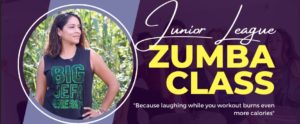 Come join the JLBC for our first Zumba night! This is a great opportunity for non-members interested in membership and for members looking for a fun workout!
This will be an instructor led class by coach, Jenny Kelly who will be sure to put some groove in your step and smiles on your face. NO Zumba experience required. Just come out and have a good time.
River Vale Community Center in Westwood
October 19, 2022 7-7:45 PM
$10 payable in cash or by check to "Fitness with Friends"